foojones.com, tell a friend!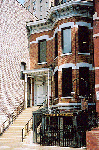 Click to visit web page.
One of our favorite places here is Chicago Pizza and Oven Grinder Company. 2121 N Clark Street. They do pizza with a flip here. Heavy china bowls are filled with cheese, then toppings, then red sauce and finally the pizza dough is lain over the top of the bowl and then baked. The order is served with heavy oven gloves, and in presentation is flipped at the last second onto a plate. One eats this gooey concoction with a fork and spoon. The mushrooms are the size of golf balls, and fresh, oh my fresh. The salads are family style, ice cold and yummy.
Reservations are good on weekends...