New Orleans is one of our favorite places. We love walking around the Quarter, doing what we call a "Heliogabeline tour". We think he is the guy who used to bankrupt his hosts when traveling about the empire. Anyway, our tour consists of starting at one end of the French Q, maybe Felix's or Acme for a round of ersters, then down the other end for caesar salad at Pizza Oven, and then back towards Canal Strreet to find an entree...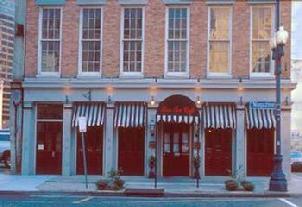 Long time good...
The Bon Ton Cafe in Norlins is prolly my fave in the whole town. I knew Al and Alzina Pierce back in the sixties, when there were no t-shirt shops in the quarter. The Bon Ton is not IN the Quarter, but across Canal Street on Magazine. The decor is old world fwench bistro. The staff is the best. The nephew of Al and Alzina runs the place now, and they would be proud. This is old school Nawlins, so don't look for no BAM anywhere on the block. They do a catfish appetizer that is just too cute by half. Five or six nuggets of catfish muscle, battered and deep fried. Served with toothpicks and a simple dipping sauce. I swore I would never give the recipe away, so I won't. The entree's are numerous, and if you were going to try to categorize it, I would say Creole-influenced Louisiana home cooking. Al talked the best Cajun tawk you ever heard (hoid) and was a hoot. I order the crawfish etoufee, and swear it is the best, besides a friend of mine. Maddog used to work in the town food and bev biz, or "LIfe in the Food Chain". HE makes the best crawfish etoufee ever. Sorry, Alzina. The coffee and desserts top it good, so order the bread pudding. Damn, making me hungry writing this...

If you like a prix fixe style dining experience, try Tujage's. On Decatur, it has a seasonal menu and is just fun.

Tujague's web pages CLiCK

TBV2 is almost in tears if we arrive and they do not have any Merliton Soup. It's a Fall thing, I think. The service is just as well oiled as service could be, in a joint 150 years old or more. Like clockwork. the minute hand part. Soon as one course is done, whisk, and the next is there.


Quick List of NOLA eats

Mother's for quick lunch or brekkie.

Betsy's, for a hungover breakfast. Bar is open!

Mandina's, - TBV1 loves their Oyster PoBoy, TBV3 insists on going on Thursday's, as the special is Crawfish Etouffee. This is old school Nawlins, and SRO is the norm at lunch. Dinner too, usually. Big menu, all the locals pack this place. In an old house on Canal, west from CBD.

Brennan's - On our honeymoon, TBV2 and I did dinner at Brennan's in the FQ. Gerald McRaney and his bride Delta Burke were having their dinner that night. They were on a float for Mardi Gras, or sumpin'. An institution, this place just sheds old school. I had Crawfish Sardou, outstanding.

Cafe du Monde - Ahhhhhhhhh....coffee with chicory. Beignets. People watching on Jackson Square. What total fun. Great for anytime pick me up, but breakfast time or late time is when we usually hit it.

Magazine street is getting to be a big area for newvo dining establishmunts. Try any one.

Royal China - Dim sum, with a southern accent, y'all!